Episodes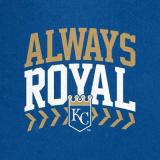 Makers of Sport Podcast #110
Tori Boykins
Tori Boykins is a creative with many layers. A boxer, entrepeneur, graphic designer and gritty midwesterner, Tori joined the show to discuss her long journey breaking into the sports design scene, first at the Kansas City Chiefs, and currently as a graphic designer with the Kansas City Royals.
From majoring in interior design at a Big Ten university known for engineering, to starting a business in college and running it six years, Tori has had quite an eclectic career. We attempt to peel back the many layers of her story beginning with a love of art and geek culture as a kid in Cincinnati, Ohio.
We discuss how she got sucked into "old school mentality" choosing to attend community college to get an associates in graphic design after already obtaining a Bachelors in Interior Design years earlier and founding a small business.
Tori also elaborates on how a black-owned design studio in Texas gave her a chance as a design intern, as well as how pitching free projects to real, underserved sports brands such as women's boxing and a local basketball team led her to an interview with an NBA team and an eventual gig in the NFL.
Throughout the episode, we discover a common theme of Tori's midwestern grit and hustle, as well as how important humility and risk-taking are when it comes to pursuing your dreams in the sports business.
Lastly, Tori touches on the importance of learning new skills and why she hopes to leave a positive legacy for minorities that come after her in the sports design industy.
Mentions Include:
My next guest is Matt Halfhill, the Founder and Editor-in-Chief of Nice Kicks. Matt is an early 2000s Interent entrepeneur that has made a living his entire life working for himself providing breaking news, commentary and history in the sneaker industry.
Sign up for the email newsletter for updates, discounts on future products and exclusive content for subscribers.
You can also show your support and keep the podcast sponsor free by joining the member community or purchasing merchandise from the Makers of Sport® shop.
Additionally, if you enjoyed this episode, please rate and/or write a review of the show on  Podcasts and be sure to follow host @TAdamMartin and Makers of Sport® on Twitter & Instagram.