Episodes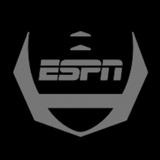 Makers of Sport Podcast #73
Tim O'Shaughnessy
"You should start spending a half-hour a day learning Cinema 4D to advance your design repertoire. It's not hard, it will make you better."
ESPN College Football, Mike & Mike, NBA on ESPN, the 2014 World Cup—do these brands ring a bell? Our guest this week is Tim O'Shaughnessy, broadcast art director at ESPN, and has worked on graphics packages for each of these TV brands.
We discuss Tim's undergrad degree in psychology and how it aids him in his work as an art director and empathizing with his intended audience or designers he art directs.
Music is an art that influences many designers. Tim is no different. We chat about why designers tend to either be musicians or appreciate music so much, including recognizing creative patterns and applying them to their own work.
We touch on the trend of amateur animaged GIFs in college sports and what makes an actual "animation" vs. turning off a layer in Photoshop.
Lastly, Tim gives us deep insight into some of the processes the broadcast department uses at ESPN including working with agencies or freelancers, rendering matte paintings, developing an overall vissual language for a show or event, animation engines & software being used, as well as the behehmoth of a project he worked on with LoyalKaspar for the new ESPN College Football motion package which is up for an EMMY.
2016 MIKE & MIKE REBRAND - REEL from Timothy O'Shaughnessy on Vimeo.
2016 COLLEGE FOOTBALL PLAYOFF - REEL from Timothy O'Shaughnessy on Vimeo.
2015 NBA FINALS - REEL from Timothy O'Shaughnessy on Vimeo.
WC2014_TEAMRHOMBUS_RIP from Timothy O'Shaughnessy on Vimeo.
OLBERMANN - REEL from Timothy O'Shaughnessy on Vimeo.
WC2014_TEAMCREST_RIP from Timothy O'Shaughnessy on Vimeo.
Mentions include:
My next guest is going to be Sloane Kelley, Senior Director of Content for the PGA Tour. Sloane has an extensive agency background and has been with the PGA for 3 years. She recently spoke at SXsports on VR and golf.
Sign up for the weekly email newsletter for updates, discounts on future products and exclusive content for subscribers.
You can also show your support for the podcast by joining the community and keeping it sponsor-free.
Did you enjoy this episode? Then please rate and/or write a review of the show on iTunes. Also, be sure to follow show host, @TAdamMartin and @MakersofSport on twitter and Dribbble.