Episodes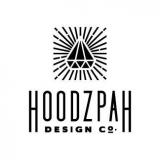 Makers of Sport Podcast #104
Amy & Jen Hood
"Fear is good, you can feed on it and it makes you work harder to be good and be better. If you get too complacent and happy, that's where you get in trouble."
A special episode from MLC Connect 2019 with two of the keynote speakers, Amy and Jen Hood of Hoodzpah Design of Southern California. Through their studio the duo have worked with companies ranging from small California businesses to major brands like Google and Target.
Jay F. Hicks, a digital strategist and content lead at Bayler University Athletics and also the host of Sports Creatives Podcast, joined me to co-host in the MLC media room in the Atlanta Braves' stadium.
Listen along as Jay and I chat with the Hood twins as they share how they began their company,imposter syndrome, how they developed soft skills and emotional intelligence, managing imposter syndrome, how they collaborate seamlessly with one with another and more.
Mentions Include:
My next guest is Peter Robert Casey aka PRC. Peter is the Vice Chairman at SLAM Magazine and is a digital marketer, tech startup founder and CEO of JDS Sports, a venture capital fund for sports-related companies.
Sign up for the email newsletter for updates, discounts on future products and exclusive content for subscribers.
You can also show your support for the podcast by joining the community and keeping it sponsor-free.
Did you enjoy this episode? Then please rate and/or write a review of the show on iTunes. Also, be sure to follow show host, @TAdamMartin and @MakersofSport.