Episodes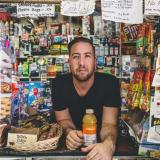 Makers of Sport Podcast #89
Alex Center
"In the past designers were thought of as craftsmen only and were the 'make it pretty department'. We have an uphill battle to convince other people...I think our job and obligation is to showcase the fact that we can be involved in much more than the 'make it pretty' projects. That involves us having different tools in our toolbox and craft shouldn't be the only one."
As design director at The Coca-Cola Co., Alex Center has had quite an interesting journey.
His story begins with passing up an internship at renown design legend's studio, Milton Glaser, to intern for the New York Knicks; and eventually, led him to Glacéau to design for vitaminwater where he had an interesting run-in with 50 Cent.
Glacéau was later acquired by by The Coca-Cola Co. and Alex worked his way up to Design Director for the brands vitaminwater, Powerade and smartwater where he is today.
He shares a few stories about art directing professional athelete photoshoots, including challenging Big Papi to a cannonball contest at his pool and waiting 9 hours for Kobe Bryant to show up to a shoot.
A champion for in-house design—something many sports designers are familiar with working for teams—Alex elaborates on design's role in business and brands; as well as discusses some tips on how designers can get a seat at the decision-making table.
Lastly, Alex touches on how sport & hip-hop (he's a big Kanye fan) influence his work and discusses some of his side projects which include working on the "ESPN 30 for 30: When the Garden was Eden" with Michael Rapaport.
Mentions Include:
My next guest is Shane Mielke, an independent creative director and interactive designer in Southern California. Shane is a bit of legend in the interactive design space. Once a creative director for renown interactive firm of the early 2000s, 2Advanced Studios, Shane now freelances full-time, is a high school football coach at a prominent SoCal school and world-class Crossfit athlete. More on Shane can be found at his site.
Sign up for the weekly email newsletter for updates, discounts on future products and exclusive content for subscribers.
You can also show your support for the podcast by joining the community and keeping it sponsor-free.
Did you enjoy this episode? Then please rate and/or write a review of the show on iTunes. Also, be sure to follow show host, @TAdamMartin and @MakersofSport on twitter and Dribbble.