Episodes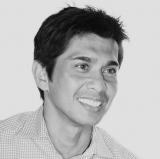 Makers of Sport Podcast #88
riCardo Crespo
"It's a right of passage to know that you're good at executing, but also challenge yourself to understand that at the very root of what we do as designers—whether our medium is physical, digital, websites, billboards or t-shirts—at the end of the day, design is a method of communication, and the design is a manifestation of that communication."
riCardo Crespo is a world-class creative director and he is very secretive online. In fact, you won't find much on him at all and he prefers it that way.
Referring to himself as a "creative ninja" (he is an MMA fighter as well), riCardo has worked at global agencies Saatchi & Saatchi, McCann Erickson, Chiat/Day; and he was the global chief creative for Mattel and 20th Century Fox before starting his own shop, Th13teen.
riCardo enightens us in this episode with his incredible experience on the diffrences between branding, marketing & advertising and where they fit together as a part of a venn diagram, as well as why it all starts with brand and with purpose.
Crespo has a very interesting take on portfolios and how he doesn't put much weight in them as he touches on subjectivity, explaining & communicating your work.
He also discusses being courageous as a creative and how sometimes you have to get out of your comfort zone making a decision on your environment and whether you can find a diplomatic, respectful voice with marketing execs and/or clients or if you have to find a new environment to collaborate and thrive.
Lastly, we discuss the democratic culture of design today, why change for change's sake is bad and why if change is a good strategy then the brands need to suffer through the online criticism.
Truthfully, this episode is so jam-packed with value it's hard to find quotes for. Get out your notepad and pen.
Mentions Include:
My next guest is Alex Center. Alex is a design director at the Coca-Cola Co. working on Powerade, Vitamin Water and Smart Water brands. Checkout of some of Alex's work here.
Sign up for the weekly email newsletter for updates, discounts on future products and exclusive content for subscribers.
You can also show your support for the podcast by joining the community and keeping it sponsor-free.
Did you enjoy this episode? Then please rate and/or write a review of the show on iTunes. Also, be sure to follow show host, @TAdamMartin and @MakersofSport on twitter and Dribbble.
PURCHASE YOUR "SPORTS DESIGNERS UNITED" T-SHIRT AT COTTON BUREAU.