Episodes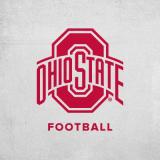 Makers of Sport Podcast #98
Sam Silverman
"What makes a successful brand from a brand identity and visual language standpoint is having consistent style that can also be fluid and flexible where not everything necessarily looks exactly the same but everything should "feel" the same."
Sam Silverman, assistant director of creative media & branding for Ohio State Football, joined the podcast to discuss his work with one of the nation's top football programs and how classic typography inspires his work.
Sam touches on how his passion for cars & sneakers and how they led him to a degree in the prestigious industrial design program at Ohio State University.
We discuss his transition to graphic design, learning typography skills and being inspired by historic design movements such as Swiss typography and the Bauhaus Movement, and how he is applying these things to the football brand at Ohio State University.
The ethics in sports design are a very hot topic in this episode as Sam & I chat about respecting and knowing the history of the discipline, denounce the braggadocious nature of sports designers and try to determine why rip-off culture runs rampnat in college athletics marketing and design.
Lastly, we go deep on Sam's work with OSU and specifically discuss the new intitiative, BrandU, a program that helps teach college athletes about the importance of their personal brands.
Mentions Include:
My next guest is Adam White, the founder and CEO of Front Office Sports, a new era sports business media platform bringing readers insight, news and authority at the intersection of sport and business.
Sign up for the weekly email newsletter for updates, discounts on future products and exclusive content for subscribers.
You can also show your support for the podcast by joining the community and keeping it sponsor-free.
Did you enjoy this episode? Then please rate and/or write a review of the show on iTunes. Also, be sure to follow show host, @TAdamMartin and @MakersofSport.