Episodes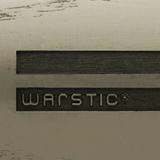 Makers of Sport Podcast #10
Ben Jenkins
"Those guys (Huckberry, Cool Hunting, Uncrate) are out there waiting for us to make stuff...waiting for the next thing to come around where they can say 'hey look at this cool new thing'. That's out there for us as designers."
Ben Jenkins, founder and creative director of Warstic Wooden Bat Company joins the show. Ben is a former Minor League baseball player. He is also the founder of a strategic design and branding firm in Dallas, Texas, Onefastbuffalo.
Ben comes aboard to talk about his new sports product venture, Warstic Bat Co., a manufacturer of high quality wood baseball bats that has received critical acclaim and has been featured in the Wall Street Journal, ESPN The Magazine, GQ, Huckberry, Uncrate and more. He has also collaborated with women's handbag company, COACH, on custom wooden bats.
We discuss how he got started in graphic design, why he left the MiLB, the growth of Onefastbuffalo, the reason he scaled back from half-a-million dollar web projects and the eventual founding of Warstic.
Ben also touches on how working a 3-day week and travel can lead to being a better designer.
Mentions include: