Episodes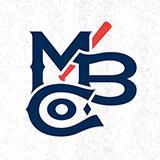 Makers of Sport Podcast #100
Jeremy Mitchell
"It's 100% about relationships. Probably the most important part of Mitchell Bat is the people I've met along the way that I consider true friends or trusted advisors."
Jeremy Mitchell, agency creative director, web designer and most notably founder of Mitchell Bat Co., joined the podcast for episode 100 to discuss his passion project; a company that provides custom, hand-painted wooden bats to passionate & passive baseball fans, corporations and brands alike.
Jeremy discusses how his college degree in sports management, playing in a band in college and a crush on a graphic design major (who eventually became his wife) eventually led him to pursue a post-grad career in design.
A passionate baseball fan, Jeremy created a mockup of a hand-painted, striped bat one night and posted to his Instagram. The post got some likes and requests on where to purchase the bat, whom fans thought was a real physical product. Thus began the quest to start Mitchell Bat Co.
We discuss the social mission of MBCo, how a conscious effort should be put into building a brand, and how passion projects lead to incredible opportunities and collaborations that one would not always expect or receive from a full-time paying job.
Lastly, we discuss the value of relationships and how important they are to any career, let alone a side project.
Mentions Include:
USE CODE "MOS" AT CHECKOUT ON MITCHELLBATCO.COM AND GET 20% OF A BAT.
My next guest is going to be French designer & illustrator, Caroline Blanchet. Caroline is the founder of Ptitecao, French design studio that focuses on creating visual design and digital illustrations for the sports industry.
Sign up for the weekly email newsletter for updates, discounts on future products and exclusive content for subscribers.
You can also show your support for the podcast by joining the community and keeping it sponsor-free.
Did you enjoy this episode? Then please rate and/or write a review of the show on iTunes. Also, be sure to follow show host, @TAdamMartin and @MakersofSport.