News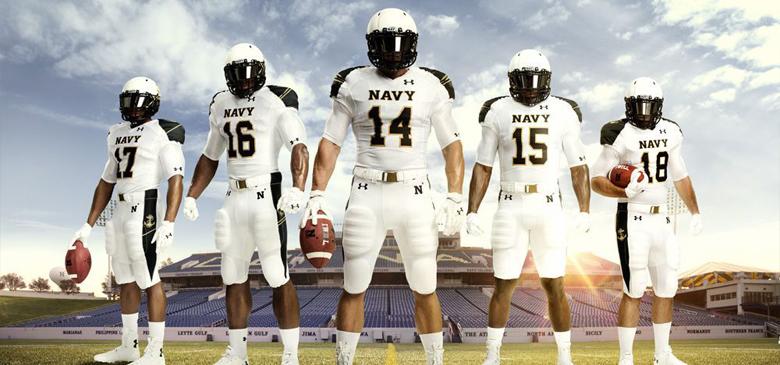 The Midshipmen Under Armour Uniforms Inspired By Navy Summer Whites
If you were watching any college football during this past opening weekend, you saw a lot of new uniforms adorning teams around the country for their season openers. 
Perhaps the most standout uniforms of the entire weekend – other than the always shiny Oregon Ducks or the questionable choice of Louisiana Monroe (is that Willie in Adidas? Shame on him) hunting camouflage – were the special edition "Summer Whites" the Navy football team wore against Ohio State. 
Not unlike the Navy Summer Whites, these uniforms are very crisp and clean. The helmet, which has quickly become my favorite in college football, was directly inspired by the Mid's cover and looked great from a distance on TV.
For the first time in history, the uniforms varied from player-to-player as each athlete wore their rank on the field depicted in the shoulder and pant leg design. That's right, the 4th Class, 3rd Class, 2nd Class, 1st Class Midshipmen and Midshipman Lieutenants wore their Navy Summer Whites with rank to the stadium and then changed into their rank on the field.
The uniforms were designed by Under Armour's Team Sports department, lead by my next guest, Adam Clement. According to Clement, these uniforms went over very well with the staff at the Naval Academy Athletic Association.
Each uniform incorporated six stripes behind the numbers as part of the unique design ethos Under Armour created to pay tribute to the six original frigates (which signifies the formation of the US Navy), the current six naval fleets in operation around the world, as well as the six ranks a Midshipman can achieve, with the highest being Brigade Commander.
On each hem, the naval battle cry "don't give up the ship" is embroidered. 
Typically, I am not fan of teams incorporating military elements into their uniforms, however, in this case, the football players are the military so it beautifully works. I believe it represents the more than 4,400 Midshipmen and 300,000 active Navy personnel very well. Nicely done, Under Armour. Adam Clement's interview will be a must-listen.