News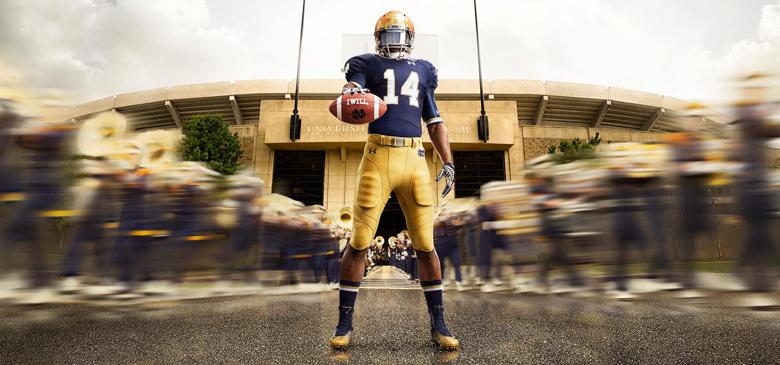 Notre Dame Reveals New Football Uniforms by Under Armour
The University of Notre Dame is a prestigious university steeped in deep tradition. The brand is heavily influential in the world of sports and even pop culture. 
Sure, the program has had its ups and downs in the past 10 years but with Coach Brian Kelly, it has recently made a climb back to the top of college football (yes, even with the embarrassing BCS National Championship against Alabama..sorry not sorry, I'm an SEC guy).
In January of this year the school signed a 10-year contract with Under Armour, a deal that provides the brand with exclusivity in design, footwear, athletic apparel and equipment for men's and women's varsity athletic programs. Because the school is private, actual financial numbers have not been revealed publicly. 
Today, Under Armour and Notre Dame unveiled their new uniforms via social media for the 2014 season. The uniforms are the first design by Under Armour for the school, lead by future guest and Team Sports Creative Director, Adam Clement (shown in video below). 
The uniforms are sleak, clean and very traditional, something I myself am a large fan of as I believe that uniforms have become too gimmicky in today's day and age. For the first time in school history, the interlocking "ND" will be on the helmets, which themselves are gold paying homage to the nickname of Notre Dame students, "golden domers". The texture of the helmet, also mimicks the texture of the mosaic tile on the floor of the dome on campus, a subtle but beautiful design element. This texture and design are also applied to the base layer that players will wear under the jerseys as well as the receiver gloves. Under Armour has done a solid job of keeping the uniform design traditional, yet allowing for innovative patterns and design elements to layers of the uniform that aren't necessarily focal points.
It is yet to be determined how these uniforms will effect play on the field obviously, however the traditional and clean design, with subtle touches of history and campus culture are setting them on a solid path to at least look good on the field.